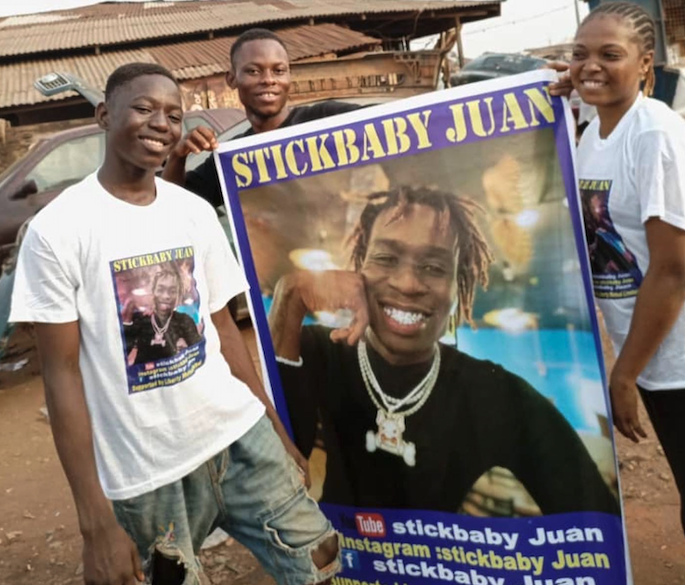 An American multi-talented hip-hop artist and songwriter, Jakevion Brown, professionally known as StickBaby Juan has recently donated a whopping sum of $100, 000 to a village in Nigeria.
The young music artist who has gained a lot of popularity in the past donated the money in line with his childhood desires and passion to put smiles on the face of people, especially the underprivileged ones.
"My decision to donate is triggered by my childhood background and desire to see others live happily," StickBaby Juan said. "Growing up with a single mother gave me the sense of what it's not to be enjoying the same standard of living with others and that's why I promised myself to put a smile on people's faces whenever I could. To me, money means nothing, especially when it comes to seeing others smile and live happily, blessings people make me genuinely happy so that's why I decided to donate the $100,000 to them."
StickBaby's gesture was warmly embraced by the people of the community, especially the youths who made billboards of StickBaby Juan and installed them in strategic places around their community. The youths went further to design a t-shirt with StickBaby's photo printed on them as they make appreciation videos to thank the hip-hop artist for the donation.
StickBaby Juan is an American-born celebrity rapper, songwriter, and entrepreneur from Ashburn, Georgia. StickBaby Juan's fame grew wider after he released his debut single, "OG Brad" in late 2020 and "Luv Her," which garnered over 100, 000 plus streams with several positive reviews from his fans and other listeners of the songs. His rapidly growing popularity is not just among his ever-increasing fans around the globe, but also in the music industry as his rapping style has continued to create buzz in the hip-hop scene, gaining him a lot of attention among globally known artists.
To know more about StickBaby Juan's donation and/or wish to follow up with his updates and releases, visit and follow his Instagram page at https://www.instagram.com/Stickbaby_juan