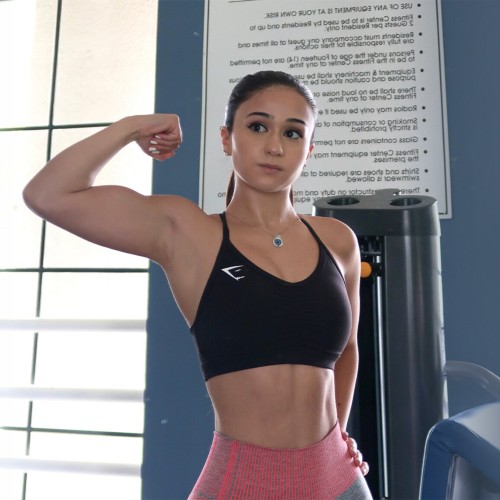 Having a healthy and fit body is a goal shared by everyone. Almost all of us resolve yearly to improve our health and fitness levels. In contrast, most of us would like the benefits of a healthy and fit lifestyle without committing to the requisite effort and self-control.
But we all have that one person who is a total gym rat, and whenever we hang out with them, we have renewed jones for exercise. However, the devil always seems to find a way to catch up with us, leaving behind the spirit of procrastination and the reasons we can't keep up with our regular gym visits.
Anyway, we're here to discuss Nona Bayat, a rising star in the fitness world. Nona Bayat's artistic and social media savvy documented her online efforts to improve her physical health. When she was a child, she and her brother moved from Iran to Los Angeles with their parents in search of a better life, and she has recently earned a bachelor's degree in psychology from UCLA. She planned to become a doctor, so she spent a lot of time as an intern in hospitals learning from doctors, but for the time being, though, she is a full-time content creator. Her goal is to inspire positive behavioral and physiological changes in her audience.
She began participating in fitness activities, such as swimming, at a young age (9) and continued doing so competitively, through high school (age 12), on her swim team. Nona Bayat is well-known now for her dedication to fitness, but she achieved her current level of fame in 2020. What started it all was when she finally gave in and downloaded the much-touted Tik Tok app, only to discover, to her dismay, that it lacked nearly sufficient health and fitness-related content. Later, she uploaded an innocuous-looking video of her typical gym routine and ab exercises to the app without giving it any thought.
Because of this, she gained a sizable following on Tik Tok, and her video became viral the next day, amassing over a million views. As a result of her success on social media, she was approached by several international companies, like GymShark, and has since collaborated with them to spread her message and help people worldwide. For six months, she has also been an ambassador for the plant-based supplement company OneSol. The husband-and-wife team behind OneSol advocates for gut health and pure nutrients that everyone may safely ingest. However, the fact that they love their consumers so much that they listen to and act on comments ultimately swayed her decision to partner with them.
So if you think the rest of her story is fascinating, wait till you hear about her morning routine. Since using technology first thing in the morning tends to condition your brain for distractions, she gives herself a strict two-hour window in which she is forbidden to use any electronic devices. So, when she wakes up, which is normally around 6 a.m., she stretches her entire body, prepares herself a cup of tea, and if the weather permits, she reads at least ten pages of a self-help book or a book about personal finance in the sunlight. 
She then starts her day with breakfast, goes to the gym for a morning workout, and follows a different program each day. The program usually begins on Monday when she does shoulders and triceps, Tuesday is full lower body, Wednesday is back and biceps, Thursday is glutes, Friday she usually rests, Saturday is cardio, and Sunday is full body.
Her go-to gym equipment is always a set of dumbbells because they are compact and effective for working out your entire body. After a rigorous workout like the one above, a girl needs to refuel, and her go-to post-workout meals are the protein drink and the healthified beef crunch wrap from Taco Bell. She also enjoys rice, pasta, and potatoes with her favorite proteins, such as fish or chicken. A salad or sauteed veggies are served on the side. She ensures everyone is okay at home when the workday is over because family is always and forever number one.
It takes a lot of self-control to accomplish all this, and Nona Bayat has it handled and is also an inspiration to a lot of people out there.
INSTAGRAM:
https://instagram.com/nonabayat