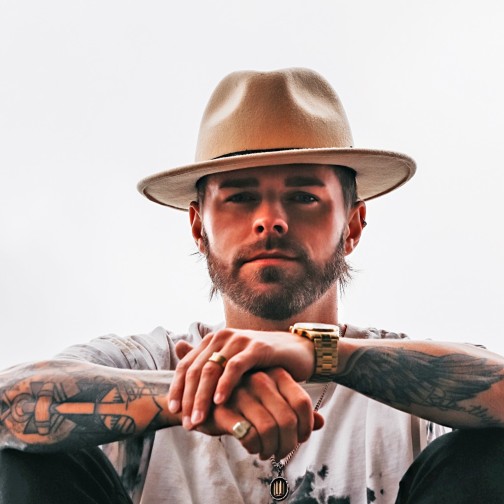 It's no secret that Lewis Hensley, AKA Louie Lee, is one of the most talented songsmiths on the independent music scene today. His unique selling proposition involves the fact that he's a cutting edge, genre-bending artist. Louie Lee's eclectic blend of Country with modern Pop and Hip Hop elements is what makes him destined for greatness in the highly competitive music industry. In fact, he refers to his distinctive genre as Country Hop & Roll.
In the Spring of 2022, the fast-rising star received kudos and made an impact with his hit song "Cocaine Cowboys." Off the heels of this successful track, the radio-worthy singer/songwriter proved that he is set to become a Country/Pop music mainstay. His confident, honest, and witty wordplay has become his golden ticket onto the musical landscape and has proven that he is one of the most dynamic artists emerging out of Michigan.
Louie Lee grew up in a trailer park called "Swan Creek" in a small town called New Boston, MI. He adds class, intellect and style to his genre. His music has been featured on a myriad of major music platforms. Lewis Hensley aims high with his new EP entitled "Summer Lightning. The "Summer Lightning" project is a tour de force loaded with vibrant melodies, flawless vocal abilities and innovative storytelling. It's a solid effort that fully exhibits Louie Lee's passion and dedication to his craft. 
"The Summer Lightning EP is an Extended Play collection of songs about embracing the uncertainty in the flow of life so everything which is important becomes clear," explains Lewis Hensley. There are catchy hooks, quality production and plenty of food for thought on the EP. It's a captivating release.  The EP contains 6 tracks of explosive songs. Each song stands out in its own right. Lewis "Louie Lee" Hensley works his magic in the studio and creates musical anthems that feature strong choruses that will stay stuck in your head for days.
The "Summer Lightning" EP is set to officially drop on October 21, 2022, on all streaming platforms.
Log on to Http://www.lewishensley.com
Could Lewis "Louie Lee" Hensley be Michigan's next big country music artist?